Previously on Wee Z:
There had been some presumptuous purchases and work had started and then stalled on relinquishing the Purple Pimpernel's tank of its magnificent hue. My health was still playing silly buggers but there was some progress! Cue looks of shock, slapped hands to open mouths and exclamations of "well I'll be" "by 'eck" and "fackin hell!" depending on your geographical position and general disposition.
So on a day that I was in Aberdeen, as it would have been frankly impossible if I was in Caithness, I went downstairs and had a wee talk with Zedward.
"Boys... we need a chat." I said standing in front of them, their tired Oxford cover now thrown and crumpled neatly next to them on the ground.
"Mhhhh." Said the Pimpernel.
The Phoenix shrugged.
"It's to do with arses.... " I thought that would ignite some interest in them.
They seemed to perk up, visibly rising on their suspension so as not to miss a word or oily image.
"Your arses."
"Phhhhhhhh!" They exhaled through their front tires returning them to their previous stance.
"Well we need to decide what we want to do. The cut down seat foam idea is out for you Pimpernel due to your battle wounds from your previous owner."
Pimpernel seemed to detach from the conversation of the motley group as he stared into the open expanse, focusing on a point above Fergus's shoulder, over the garden fence and beyond. Yet his mind was inwardly focused, remembering the terror of the cutting disc biting down in to his back and scything away his precious metal seat locks. The calls of the maniac wielding the angle grinder still resonated around the inner headlamp shell of his mind, which was in fact adorning Fergus's bedroom window at this present time and looking rather lovely.
"Tell me the secret Pimpernel! Tell me! What is the secret of the cafe racer! Silence won't help you! I'll get you to talk! Hahahahahaha!"
The Pimpernel seemed to shudder and come back to the group. "Eet is true, eet is impossible."
"Eh?!" shouted Phoenix. "Fuckin' poofs."
Pimpernel glared at Phoenix. "You know nutheeng of my pain."
"Whatever Pim-per-nel. Why don't you chuck all the gid stuff on tae me Fergie? Ma frame's still perfect. Ken?"
"Good idea Phoenix except your nuts are stiff." I replied in an exasperated tone, this was a topic we had been over many times before.
Phoenix would've blushed a side light if his headlamp wasn't sitting in a box and his wiring wasn't such a mess. He shuffled on his 2cv rear tyre.
"Aye gid point there Fergus. Ah cannae help it tho. Leave a man standin' on his own fir years and whit's he s'posed til do? Eh? Feckin seized solid a am, ken. Ye wir right we yir thinkin that Pim-per-nel should be the bastart that gets e chance."
"Good man. Well what do you think of Monsters?" I asked.
"Feckin scary things eh."
"No the motorbikes."
"ahhh.... feckin Latin poofs."
"Noh they are very sexeee Phoenix. Ze curves. Ze lines. Ze bottom. Ze bulbous tank and ze prominent motor and weeth that staring, beautiful glaring eye... a bike you wish to share oils with noh?"
"Damn sexy yep. Well what do you think about the seat unit? They seem to come up for sale quite a lot and it could be a nice compromise between a full on cafe fibreglass unit and a proper seat. You guys want to give it a go?"
"Oui!" Pimpernel said rising on his suspension so quickly he almost knocked himself off his centrestand.
"Easy on ya stupid cuntin bastart! Ye almost had me over an aw 'er! Feckin idiot. Ye forgettin our friendship chain or sunthin? Aye fergie al gie it a shot only til gie is twat a thrill."
"Awesome. I'll see what I can do."
And with that our conversation was done. The lads went back under their religious cover and I went back up to the flat with a mission and a need for a mug of tea.
So some further procrastinating on the internet caused a large parcel to arrive.
Resized to 94% (was 1024 x 768) - Click image to enlarge
Within this parcel was a large amount of sexy wrapping....
Resized to 94% (was 1024 x 768) - Click image to enlarge
Sexy when 'exotic' motorcycles constitute an American import XR75 or a Z200 with a faux French accent...
Within the box and the wrapping lived this...
Resized to 94% (was 1024 x 768) - Click image to enlarge
Resized to 94% (was 1024 x 768) - Click image to enlarge
Resized to 94% (was 1024 x 768) - Click image to enlarge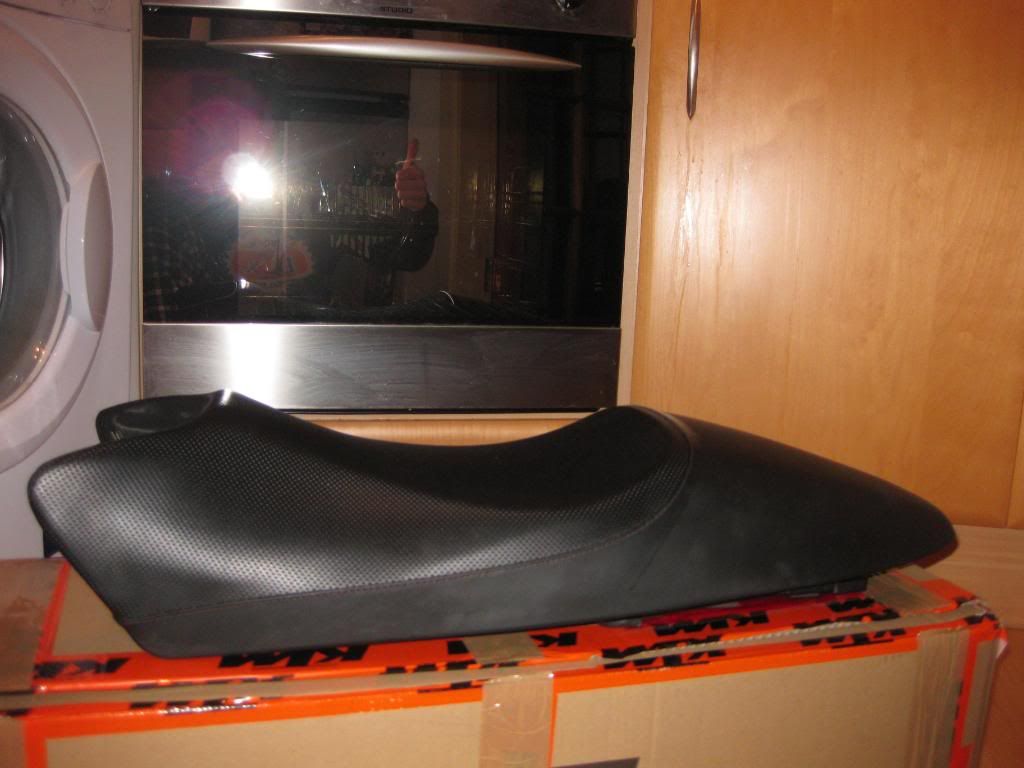 I hope there were at least some "oooohhhs!".
So a scary thing seat was all bought and delivered. However this brought with it the realisation that it was feckin huge! If you haven't seen a "wee Z" before, I can tell you in all honesty that they are not huge. Not in the slightest. In fact they are anti-huge, un-huge and make mid 90's CGs look quite butch, and they're not very huge either.
So with a mock up of the tank (which will need further explanation in a minute...) things looked a bit like this.
Resized to 94% (was 1024 x 768) - Click image to enlarge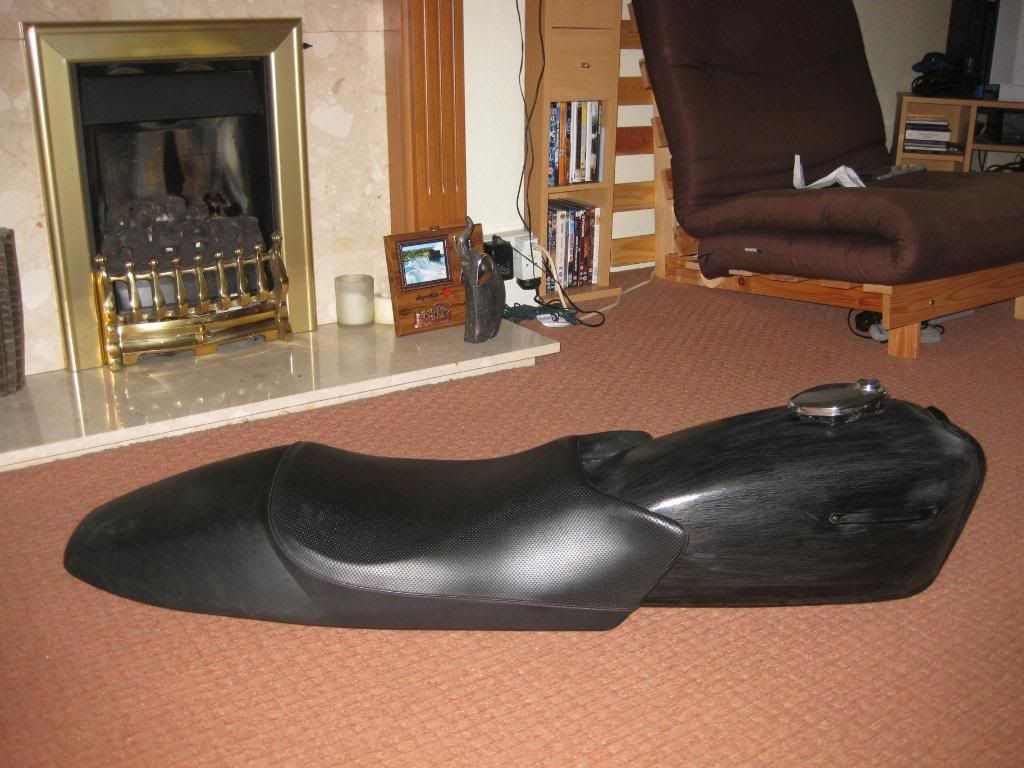 "Oh" you say.
Resized to 94% (was 1024 x 768) - Click image to enlarge
"Hmmmm" I thought. "But it shouldn't sit flat on the rails should it?"
Cue hasty mock up resulting in this...
Resized to 94% (was 1024 x 768) - Click image to enlarge
Resized to 94% (was 1024 x 768) - Click image to enlarge
So it wasn't looking too promising. The easy, sexy, simple option was quickly evaporating.
So with no enthusiasm or confidence I went to set it on top of the Pimpernel.
Resized to 94% (was 1024 x 768) - Click image to enlarge
Resized to 94% (was 1024 x 768) - Click image to enlarge
Alas....
So the Monster seat was well and truly out the window. In fact it was so far out the Aberdonian window it was back in the garage in Caithness, making eyes at my Mum's old VT500 which has fallen into my hands, but that's a different tale.
So in regards to the seat unit we appear to be back to square one. Which puts us in the *shrug of the shoulders* position.
Thoughts are split between a fibre glass unit like this Aermacchi 350 race seat with some seat foam.
Or a seat like the one on this Norton.
Opinions?
If I went with the Norton style seat I'd go with a cut down mudguard. It would be easier in some respects as I'd only have the Sherman and the race boards to paint.... okay the 'side panels'. I'm not quite sure which would suit things best though.
This latest instalment will end here as I wouldn't mind some feedback on the old seating ideas..... anyone? The original post was also HUGE! So we shall return to this at a later date. Adieu